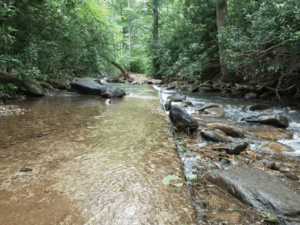 The creeks and branches of the Flat Creek watershed in Montreat are a "lifeblood" of sorts to the overall quality of life in the community. Many are the residents and visitors alike who value recreation, education and inspiration in and alongside Flat Creek as it tumbles through the town. Montreat Landcare works on behalf of and with its member entities to "protect, preserve and present the natural features of our cove." Those features include our tree canopy including the important hemlock forest, wildlife and native plants, and of course Flat Creek.
This project page provides information about Flat Creek. Topics include the ecology of its waters, its socio-economic values, issues and concerns about which we should be aware, and tips and suggestions toward enjoyment, awareness and stewardship.
In the brochure entitled "Montreat Outdoors: A Guide and Map to Some Special Places," available from Montreat Landcare and also as a PDF, a number of cherished spots along Flat Creek are indicated. Some are closer to the headwaters of the creek, such as the reservoir at Walk Jones Wildlife Sanctuary and the Grey Beard trailhead. Further downstream we come to Lake Susan and just below it the Kids-in-Parks TRACK Trail kiosk. From there a walk along the Gate Trail brings us to Robert Lake Park and then Elizabeth's Path, and finally to the memorial garden. Places such as these contribute to the unique aura of Montreat.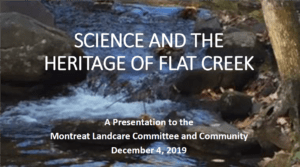 Scientifically, we are learning more about Flat Creek and the waters that drain into it. For example, Montreat College biology classes use the creek as a living laboratory. Individual students are conducting projects such as a study of the hellbender salamander (harmless) and how to restore its population after a devastating flood. Faculty research includes documentation of animals such as mayflies in the creek. Under the auspices of Landcare two research projects are underway, one looking at the quality and level of purity of the creek waters as they flow through the cove, and the other looking at levels of bacteria in the lower reaches of the creek. For a report of the results of a pilot study from October 2019 see the PDF of a slide presentation. Partnerships developed to make these projects a reality include the North Carolina Wildlife Resources Commission, the North Carolina Chapter of the American Fisheries Society, Mountain True, and the Environmental Quality Institute.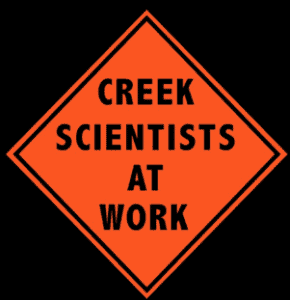 The two research projects on Flat Creek are unique not only because they are providing a first-ever scientific snapshot of water quality, but also they are relying on citizens trained to take samples. Laypersons from communities all around the world are volunteering to help professional researchers in the capacity as "citizen scientists." In Montreat a group of interested, enthusiastic and dedicated residents signed up in early 2020 to be involved in educational, conservation and scientific efforts focused on Flat Creek. In 2020 – 2021 one team is making seasonal measurements of eight different attributes, such as nutrients, acidity and turbidity. Meanwhile, a second team is taking weekly measurements at one location all summer long in 2020.
Children, adults, youth program leaders, teachers, families and others will find abundant educational opportunities in the Flat Creek watershed. Just walking along the creek to explore, or perhaps going on an evening exploration for salamanders can build awareness and enjoyment.
In summer season the Nature Hut just below the Lake Susan dam is staffed by volunteers and conference center rangers to answer questions about natural history.
The Nature Hut is also one of three sites for "eco-EXPLORE" children's activities involving outdoor photography. (This activity is provided in cooperation with the North Carolina Arboretum.) Adjacent to the Nature Hut is a kiosk donated to Landcare's Children Outdoors program, where children and their mentors can obtain information and begin a walk along Flat Creek to discover plants and wildlife, guided by four printed brochures. (This effort is part of the Blue Ridge Parkway Foundation's Kids-in-Parks TRACK Trail program, now with locations at over 160 sites nationwide, including in nearby Black Mountain.)
Flat Creek means different things to different people. There are a host of so-called "goods and services" that people receive from streams that are healthy and well managed. Some scientists and educators use the term "Ecosystem Services" as a way of looking at Earth and what Earth provides both to keep itself running and also to sustain humanity. Economists, biologists, even psychologists and many others tell us that mountain streams such as Flat Creek provide considerable goods and services.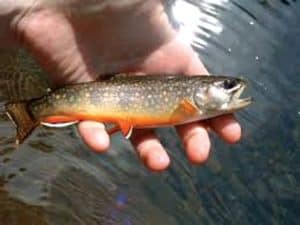 The iconic Eastern brook trout and its value to recreational anglers is a good example of an ecosystem service. Many people do not realize that these native trout reside in Flat Creek. In turn, a healthy population of trout indicates high water quality. And thus residential properties along the creek are valued. "Climate control" may be considered as another service of Flat Creek, in the sense that its year-round canopy of hemlock trees moderates summer air temperatures while also keeping the creek itself from excessive warming that may harm its native animal species. (Some ecosystem services can be defined in dollars: for example, economists estimate that in 2015 trout fishing generated over $380 million in economic impact in local communities in our region through fishing equipment purchases, food and lodging, as well as secondary spending by associated businesses.)
Spiritual refreshment is also a service of nature. A booklet providing a guided meditation around the reservoir at Walk Jones Wildlife Sanctuary is available at the Assembly Inn. Meanwhile, Landcare is working with other partners including the North Carolina Department of Environmental Quality Stream Watch program, the North Carolina Office of Environmental Education and Public Affairs, and Trout Unlimited to develop new educational opportunities concerning Flat Creek.
America's freshwaters face impairment from sources that include pollution and destruction of habitat. Even with water quality that generally rates as pristine, as in being suitable to support populations of trout and hellbender salamanders (pictured here), Flat Creek nonetheless is affected by factors common to our region. Among them are invasive plants such as knotweed along its banks, runoff of silt and sediment into it from property where soil is exposed to rain and erosion, removal or dislodging of rocks which service habitat to tiny animals, and flooding due to stormwater runoff directly into the creek especially during major rainfall events. In Montreat, recent destructive events from torrential rains include washout of roadway pavement and streambanks and damage of recreational facilities.