Montreat Landcare Committee invites you!
Tour the Trail Site
A very special fund-raising kick-off for Montreat's first all-persons trail
Wednesday, July 5 from 5:00 p.m. – 6:30 p.m. Rain or shine
Flat Creek Crossing
Just inside the Gate, south of the Memorial Garden
Come walk the site and learn from our Steering Committee about plans for an exciting new hard-surface trail perfect for wheelchairs, walkers, and strollers.
Help us make this happen!
Bring the whole family, friends, neighbors, and your old-school checkbook!
Parking in the Gate Lot and Memorial Garden Lot.
Free Pelican SnoCones to the first 75 visitors!
• Handicap parking • Accessible path to the water • Drop off zone • Sensory exploration stations
• Hard surface trail • Educational signs • Curb and railing • Picnic area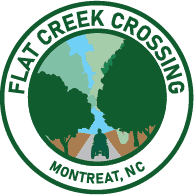 Signs along the path will identify native plants and trees, trout, and aquatic life, and describe how to control stormwater runoff to protect Flat Creek.
The cost of the project includes the required creek bank engineering and stormwater mitigation system, native plantings, and accessible amenities. It will be worth it!
Citizens and friends of Montreat, we need your help to make this happen!
Our goal is to open the new trail by July 4, 2025
Not in town July 5? Make your tax-deductible donation to the Town of Montreat with Flat Creek Crossing on the memo line
Send to:
Montreat Landcare
P.O. Box 92
Montreat, NC 28757